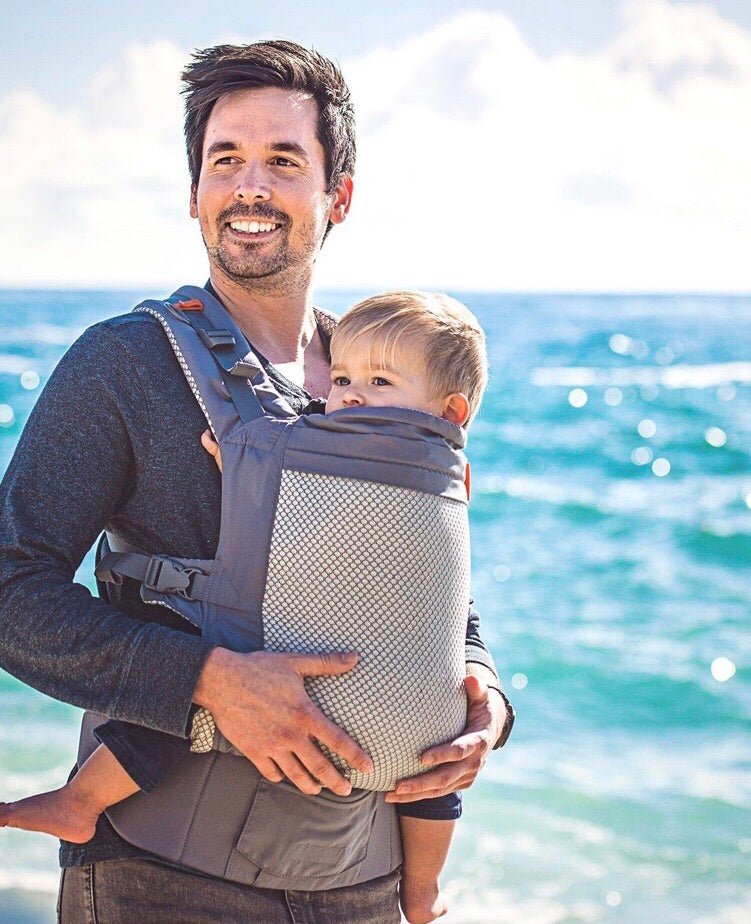 Beco Toddler Carrier - Cool Grey
Regular price $27.00 Sale
From 18 months to 6 years old
(min 9kg, max 27kg)
The Beco Toddler Carrier offers a generously wide darted seat and tall supportive back especially for big kids 18 months and beyond. Recommended for toddler weighing 9 to 27kg, the Beco Toddler Carrier is one of the largest toddler carrier in the market. 
The Cool Navy Beco Toddler Carrier is made from a special 3D mesh liner and vented panel for better airflow. The Moisture wicking SPF50 performance fabric shell also helps to regulate body temperature and keep your child cool.
Every Beco Toddler carrier come with built-in waist belt pocket and toy ring and included in the package is a snap on hood and a zipper clutch bag that can be buttoned onto the top of the carrier panel.
| | |
| --- | --- |
| Features | Benefits |
| Free size with adjustable waist belts & buckles | Fits waist sizes up to 53 inches so the same carrier can be used by more than one person. |
| 3 point release buckles | Increased security |
| Generously wide seat | Allow older, bigger kids to have a more comfortable seat in the carrier |
| Child is held close to wearer's centre of gravity and weight is distributed on the hips and across two shoulders | This allows for natural movement while walking and working. The ergonomic hip belt design effectively distributes most of the weight on the hips and away from the shoulders. Which is especially useful for carrying for longer periods of time or for wearers who have back problems. |
| 3D Mesh & Performance Material | Allows moisture wicking and higher air flow for more comfortable carrying |
| Secured with heavy duty buckles & wide, well padded shoulder straps | Peace of mind when carrying baby. Easy to use buckle and go system. |
| Provides structure | Structured carriers puts baby in a natural sitting postion with support for the thighs and back. This allows for healthy growth of the hips, pelvis & spine. |
| 3 Carrying Positions | Can be carried front, back or side/hip depending on preference. The shoulder straps can also be crossed behind your back for more optimal pressure distribution. |
| In-built waist pocket & button on clutch bag | Convenient to store small items such as mobile phones, keys and toys. |